How To Build A Sand Wash Plant
Sand washing machine is a kind of sand and stone material washing equipment which is widely used in sand and stone factories, mines and other industries. Due to the different needs of sand washing equipment in various industries, the types of sand washing machines on the market are repeated, but the basic functions are similar. Considering the site problem and also to facilitate the customers to move, LDHB has launched a screw sand washing machine integrated machine, which can screen, recycle and dehydrate materials. One sand washing station can solve all the problems of users.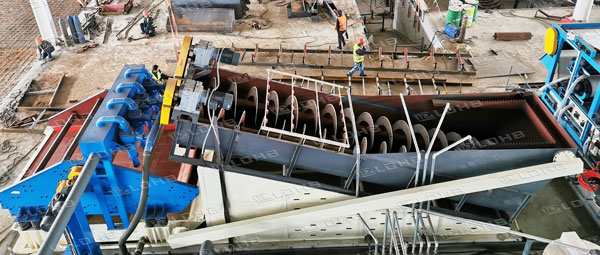 After the installation and after-sales personnel of LDHB will personally help the customer to carry out the test run after installing the equipment for the customer.
1.After the motor of the screw sand washing machine is started, it is necessary to observe whether the equipment operates in balance and whether there is abnormal vibration. At the same time, use special tools to detect the actual power of the motor without abnormal fluctuation.
2.Observe whether the temperature of the bearing of the spiral sand washer rises after running for a period of time. It is required that the temperature should not exceed 35 degrees, and there should be no dust entering the seal.
3.Before the formal feeding test run, the no-load operation shall be carried out first, and then the load operation test shall be carried out on the basis of good no-load operation. No load operation is required between 2 and 4 hours. During this process, observe whether the connection is loose.
4.The test run of the new equipment has been completed after 5-6 hours of continuous operation, and the sand washing machine can be put into operation.